Blustery winds and heavy showers interrupting the morning's migration watches, but a clear spell mid-afternoon. Chew water levels are surprisingly low for late autumn.
***** STOP PRESS - Yellow-browed Warbler at Portbury Wharf - see Tweets *****
Merlins
Black Redstart
Yellow-browed Warbler
A Buzzard in unusual company (Rob Hargreaves)
BRISTOL
St George, Crew's Hole Rd:
1 Sparrowhawk
Bishopston:
1 Ring-necked Parakeet
SOUTH GLOUCESTERSHIRE
Oldbury Power Station:
5 Grey Plover, 1 Chiffchaff, 2 m. Blackcap, c.300 Starling (from SW early a.m.), 2 Fieldfare, 25 Redwing, 1 m.
Black Redstart
, 1 Stonechat, c.60 Meadow Pipit, 2 Rock Pipit (Shepperdine). 1 Brambling (heard).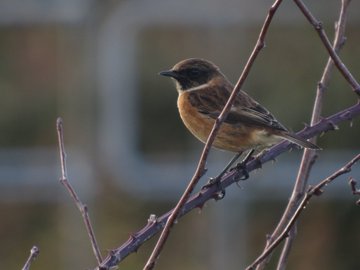 Stonechat 10-11-2018 OPS (Matt Plenty)
Thornbury:
1
Yellow-browed Warbler
- in the garden trees
Northwick Warth:
Merlin.
NORTH SOMERSET
Portishead:
A few flyby Curlew and Redshank, Rock Pipit, Meadow Pipit.
No sign of Purple Sandpiper there yet this autumn.

Wains Hill, Clevedon:
(vismig) Flocks of Woodpigeon, 10 Redwing, 200 Chaffinch, 3 Siskin, 2 Brambling.
Clevedon-Yeo:
c.300 duck in distant flight were probably mostly Wigeon.
30 Shelduck, 3 Little Egret, 6 Cormorant, 30 Oystercatcher, 130 Lapwing , 6 Grey Plover, 100 Curlew, 20 Turnstone, 750 Dunlin, 3 Snipe, 50 Redshank, 20 Skylark, 100 Meadow Pipit, 1 Reed Bunting.
Worle:
Blackcap - in the garden, 1st this autumn, with Goldcrest, and max 6 Chaffinch.
A good comparison shot of Marshfield's two most iconic species (Rob Hargreaves)
BELOW M4 & BANES
Marshfield:
10 Red-legged Partridge (Shire), 70 Common Gull, 1 Kestrel, 6 Skylark, 8 Redwing, 2 Stonechat, 6 Meadow Pipit, 20 Chaffinch, 20 Linnet, 50 Goldfinch, 20 Corn Bunting, 20 Yellowhammer.
Bath:
Merlin
flew over a garden in Weston.
RESERVOIRS
Chew Valley Lake:
Hundreds each of Wigeon, Teal, Gadwall and Shoveler.
Heron's Green:
30 Canada Goose, 1 Great White Egret, 1 Little Egret, 13 Lapwing, 1 Black-tailed Godwit, 1 GBB Gull

Stratford looking up to Herriotts Bay:
75 Mute Swan, 2 m. Pintail, 1 m. Goldeneye, 175+ Pochard, 9 Great White Egret, 2-3 Grey Heron, 24 Cormorant, almost completely white Coot, 59 Lapwing, 1 Black-tailed Godwit, 3 Snipe, 1 Green Sandpiper, Grey Wagtail, Cetti's Warbler (song), 2 Reed Bunting.

Evening Roost at Herriott's:
20 Great White Egret @ 5pm
Lovely photo of a Sparrowhawk (Lee Gardiner)
Out of Avon:
Hoopoe still at Hilmarton, Wiltshire today.
Hoopoe 10-11-2018 Witcomb Farm Hilmarton Wilts (Robert Hargreaves)
Reports: Derek Angell, Jane Cumming, Rob Hargreaves, Simon Isgar, Karon, Paul Milsom, Matt Plenty, Jean Oliver, Dean Reeves, Trevor Riddle, Howard Taffs, Jason Williams, blagdonlakebirds, CVRS, nslbirding, opsbirding, severnsidebirds, TBOSG